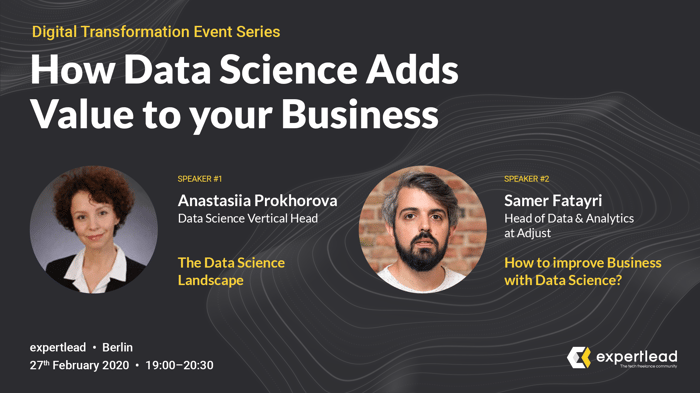 Video on Demand
How Data Science Adds Value to your Business
Everyone speaks about "data" but what in particular should concern you as a business leader?
Data Science is a very complex and fast-growing field that entails misunderstandings and challenges for both businesses and data specialists. Therefore it is important to get a better understanding of the relevant issues:
How data science can be leveraged

How to ensure your firm is ready to handle its data

What are the main challenges of the field and how we can tackle them
We want to share the knowledge we have accumulated across the years as expertleader's as well as individually to give everyone the knowledge they need to unlock the potential of their data. Regardless of the scale of your business or geography.
We will be joined on stage by our expert - Samer - to give you a first hand testimonial of how you can implement a data driven agenda. Samer will showcase this using various case studies, covering different business models and company sizes.
Agenda
Talk #1: The Data Science Landscape by Anastasiia Prokhorova - Data Science Vertical Head
Talk #2: How to improve business with Data Science? by Samer Fatayri - Head of Data & Analytics
Q & A
About the Speakers
Samer Fatayri - Head of Data & Analytics at adjust
Samer Fatayri currently heads up the Data Science team at Adjust, a global B2B SaaS company that provides over 33 apps with measurement, fraud prevention, and marketing automation products. Previously, Samer also led the Data Science team in Bookmate, a subscription-based e-reading platform.
During this career, Samer has been responsible for launching several data products while establishing a data-driven culture in various companies. His professional interests focus across areas from analytics and predictive models for marketing to recommender systems and natural language processing.
Anastasiia Prokhorova - Data Science Vertical Head
Anastasiia is the head of expertlead's Data Science vertical. Her long term experience in working with companies of different sizes has allowed her to gain a deep understanding of the challenges faced when setting up or expanding data teams. Anastasiia's advises firms on how to access the full potential of their data and setting up teams capable of rapid expansion.
To access the event recording, fill out below form.